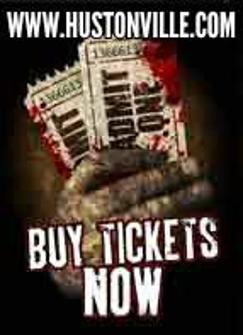 General Admission $13.00 buy online save $3.00 and Bypass the Ticket Line.
"BUY ONLINE" SAVE TIME, BYPASS THE TICKET LINE.
Don't wait to buy tickets at "The Asylum" and stand in line.
Get them in advance
BUY TICKETS NOW! CLICK ON THE "BUY NOW" IMAGE BELOW
Purchase Tickets to "The Asylum" in Hustonville, Kentucky
All tickets purchased online are good ANY night we are open in October.
Online tickets! NOW the best way to purchase tickets to "The Asylum"
PRINT YOUR TICKET RECEIPT AT HOME… simply purchase your tickets ONLINE and then print your ticket receipt AT HOME and skip waiting in ticket booth lines .
Present your ticket receipt at the door the same as any major sporting event or concert.
WE ENCOURAGE EVERYONE TO PURCHASE THEIR TICKETS ONLINE…
However, you may still purchase tickets onsite at our ticket windows.
All tickets purchases are NON-REFUNDABLE however you may use them any night we are open.
WARNING: Do not attend any of our Haunted Attractions without reading our warning/disclaimer.
Online
Ticket prices for The Asylum Haunted House is only
$10.00 thats a savings of $3.00 Off each ticket purchased online.
Credit Card Fee applied
ONLINE TICKET BOOTH IS NOW OPEN
just click on the "BUY NOW" button below
Must bring a print-out of your PayPal receipt.
WE NOW EXCEPT ALL MAJOR CREDIT CARDS
(at the gate as well as for online tickets)
any questions just call 606-346-2198 ask for Fred or leave message and he'll return your call.